Hog Roast Machines
Below you can see our spit roast machines in their various states. As you can see the spit roast machines are an easily transportable form of mobile catering. Also whether its roast hog or roast chicken, the spit roast machine is adaptable to enable you to use it as a conventional oven. It doesn't smoke, spit or make a mess (other than the occasional bit of dropped meat which the dog usually hoovers up).
All our hog roast machines are checked before and after use and are regularly serviced and cleaned thoroughly. They are CE marked as a sign of quality and to give the customer peace of mind.
Hog Roast Machines & Hog Roast Equipment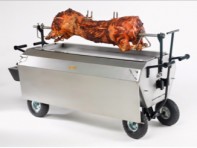 The spit roast machine in its carving position, ready for action.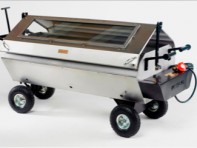 Here's the machine with its doors on, enabling the spit roast to be used inside or out.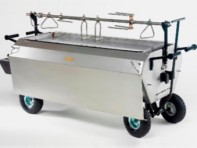 With the different accessories the machine can cook a pig in 6hrs, a lamb in 3hrs, a rack of meat joints in 3hrs or 30 chickens in 2 and a half hours.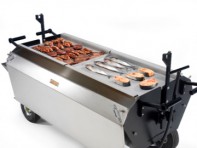 Or if you don't want to look flash and use the spit, we can use the hog roasting tray to roast food as you would in a conventional oven.
All of our spit roast machines are made with a toughened coated base, 2 doors with a viewing panel, pneumatic tyres with a professionally designed steering system, stainless steel serving panels and an automated gas assembly and pilot light system. It can be used as a hog or spit roast or as a combination oven.
The set includes a hog tray, support bars and end plates. We also supply a stainless steel carving tray and spit bit poles. Basically everything you need to run your own hog roast event. If you do need help, for any reason, there is always an expert on the other end of the phone to offer advice or technical support.
The hog roast machine is a reliable and easy to use spit roast and combination oven. Whether you want to hire a hog roast machine for a garden party or wish to go the whole hog and use The Fat Pig Company to cover your wedding catering the hog roast machines we supply are sourced to your specifications. Depending on the size of event we will always advise what is the best option for your specific needs.