BBQ Catering
I can't claim to be Australian so i'm not even going to attempt to use the 'throw another shrimp on the barbie' gag. However, I can sizzle a mean banger.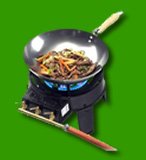 We can just come along and fire up the barbeque on its own, but better still, give your guests a choice and combine a bit of bbq catering with a hog roast on the side. A bbq is such a fun and relaxed form of outside catering, it really can help create the right atmosphere for your event. Depending on how hungry you feel, we can 'cook up' all the favourites, burgers, bangers, chicken, ribs, cobs, spuds, buns, sauces etc. Or if you really want to go up market for your wedding or party we could grill some steaks or fish. If it will stay still long enough we're happy to barbie it….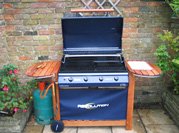 Our bbq catering works really well with the hot wok enabling you to have some stir-fry on the side, or perhaps some hot potatoes in herb butter, or my favourite is prawns in a garlic sauce.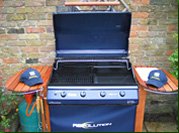 Whatever the weather we're happy to wheel out the barbie – it's my fault for becoming a mobile caterer, so put us to work, and as the wise old man says "if the wheels ain't turning I ain't earning"