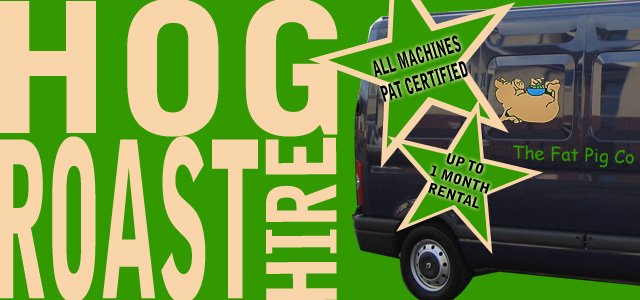 If you're really feeling brave you can hire the machine and do it yourself! Our hog roast machines are available for hire and don't worry about doing it wrong as we are always on the other end of the telephone if you think it's going a bit "pear-shaped". All the machines are PAT certified too.
Our hog roast machines are supplied with gas to the location of your choice and can be picked up at a time to suit you. All of our machines are capable as a spit roast to cook pork, lamb, turkey, chicken and beef or to be used as a combination oven. The hog roast hire can include the meat if you wish. We can also supply multiple machines and a chef if you so require.
The Fat Pig Company are a well respected family run business that pride themselves in supplying only the best hog roast machines. All equipment is fully checked on a regular basis and is cleaned thoroughly before and after each hire.
Hog Roast machines can be hired by the day (wedding hog roast, party), week or month. We can supply multiple machines and additional gas bottles if you need them. We can deliver the hog roast machine to your event and pick it up for you. Hey if you want to buy your machine as you couldn't see yourself without it anymore we can do that too.